My what an evening in Nebraska today. If you're a weather geek at all, you've no doubt seen some of the pictures and videos to come from Northeast Nebraska today. Incredible stuff from around the Pilger area. Large, dual tornadoes rolling across the land, doing damage. These photos are incredible.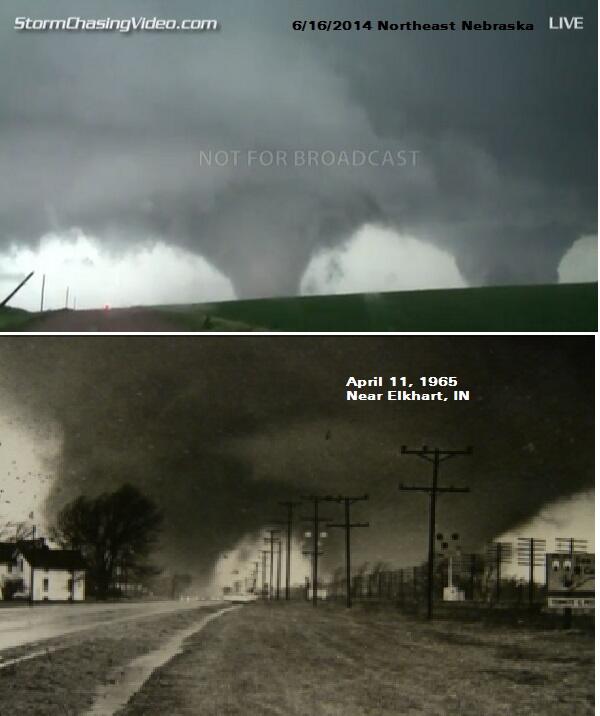 And thanks to Google Earth, look at the damage caused to this school (before & after):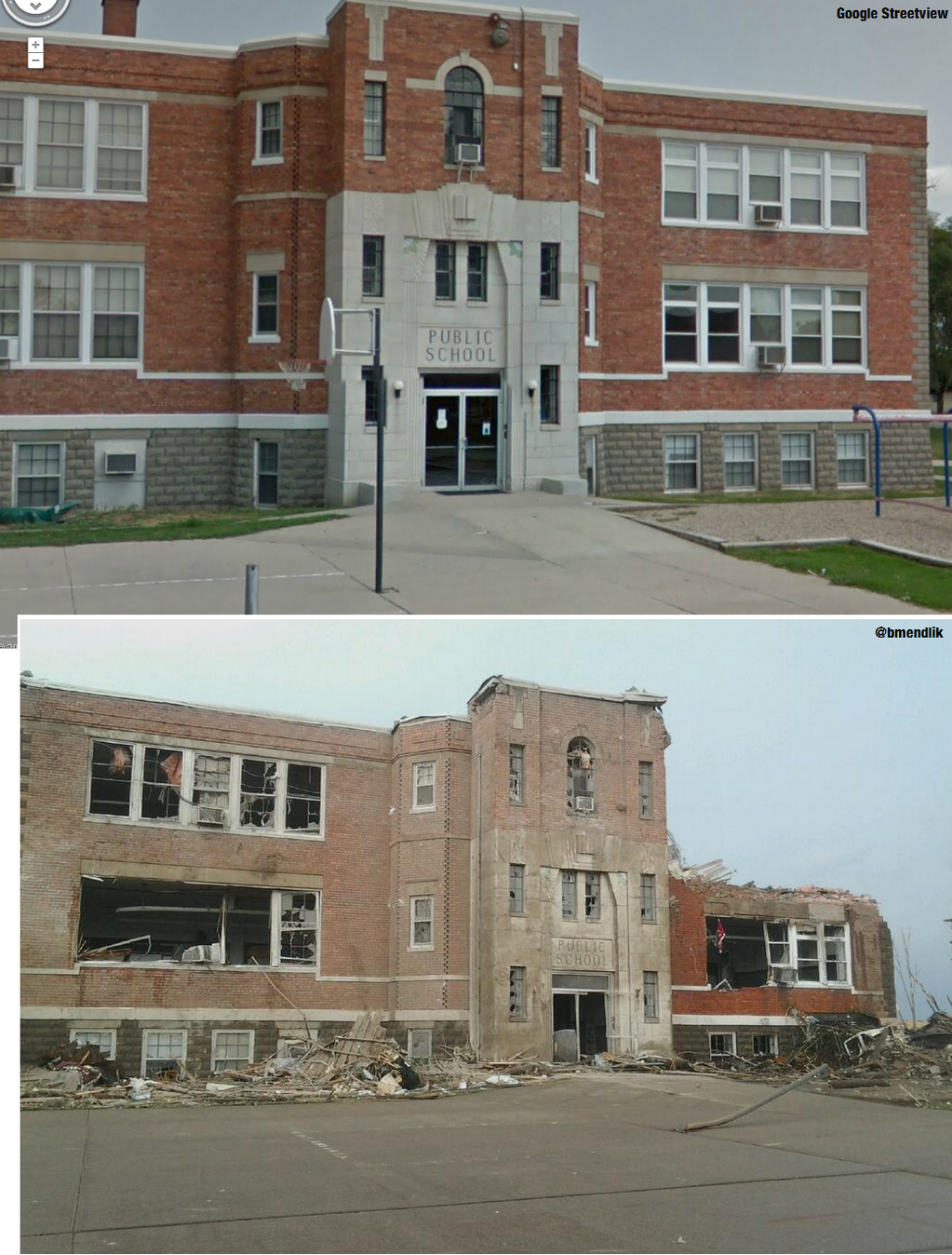 Via Eric Sorensen
What struck me was the size of these twin tornadoes. It's not unusual at all to have multiple tornadoes on the ground next to each other. But typically, there is a large tornado with one or two (sometimes three or four) smaller tornadoes rotating around the larger tornado. In this case, these two appear to be walking side-by-side. Absolutely stunning.
Before this storm produced the double tornadoes, it looked like this:
For those in the path, absolutely frightening. As of this blog post, the Associated Press has confirmed one death and over a dozen injured. There are many photos out there, but here is just one of some of the damage seen in Nebraska:
And at this time, storms continue to hit the Northern Iowa area.
To bring us closer to home, we'll be battling the heat, wind, AND humidity for the next couple of days. It will start out warm in the 70s and then climb to 90 degrees in the afternoon. Winds will also stay strong overnight tonight and increase even more as we go into Tuesday.

We are forecasting a high of 90 for Tuesday. Kansas City has not officially seen 90 degree temperatures since September of last year.

With dewpoints expected to remain in the low 70s, heat index values may trickle above the century mark. Needless to say, you'll need to find plenty of cool air and water; especially if you happen to work outdoors.
It will be more of the same as we go into Wednesday, so I hope your A/C is up to the challenge.
By late Wednesday, we'll be keeping eyes on the next wave set to move into the area.


While the heart of this energy will remain in the Northern Plains, it may still be able to produce enough lift in the atmosphere to generate storms in Central KS by Wednesday night. These storms would look to roll our direction by Thursday morning.
The problem we may face heading into the end of the week is that this energy stalls out to our North. This would leave a weak boundary draped across Southern Nebraska & Iowa, which could be enough to generate afternoon showers & thunderstorms. You can bet it's something we'll be tracking all week!
I hope you can join us tonight at 10p. We are working on gathering a lot of video from the storms in Nebraska today. Truly incredible stuff to see. As I mentioned on air earlier tonight: I never root for severe weather to happen anywhere. But sadly, it has to happen to keep the Earth going. All we can hope is that it occurs over unpopulated areas and does as little damage as possible. Unfortunately, that was not the case tonight.
-JD